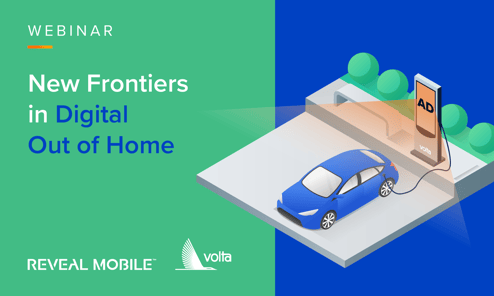 Thursday, December 8 at 11 AM ET / 8 AM PT
This webinar is in the past. Please use the form on the right to get in touch.
Out of home ad spend in the U.S. is expected to reach over $8 billion next year. That puts the channel ahead of YouTube and TikTok, and ahead of Twitter, Snapchat and Pinterest combined. Along with its growth, out of home is in a state of rapid change – from ad formats to media buying to measurement. Leading the industry's evolution are big brands, digital OOH ad networks, and measurement companies, collectively revealing what's newly possible with this time-tested advertising channel.
Join Volta Charging and Reveal Mobile to explore the new frontiers in digital out of home advertising, where we'll take a look at campaigns that are pushing the envelope on planning. placements, performance. We'll cover digital out of home's breadth and depth and discuss where the category is headed in the new age of retail and outdoor media.
Presenters:
A valid work email is required to register.