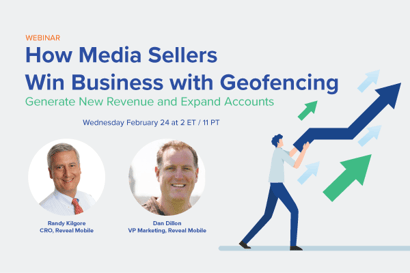 This webinar is in the past. For more information, please fill out the form on the right.
Media companies everywhere are innovating. The best ones are innovating and growing. There's light at the end of the pandemic tunnel, and advertisers need to attract new customers while keeping the ones they've fought hard to retain. The answer for an increasing number of media companies -- local, regional and national -- is geofencing marketing.

Geofencing marketing not only allows media organizations to maximize advertising performance by bringing the most precise targeting to your accounts' campaigns, it also helps your sellers pitch new prospective accounts. Join us on Wednesday, Feb. 24 to see the full spectrum of geofencing marketing strategies to use in serving advertisers and growing your advertising revenues.

The webinar covers:
Geofencing marketing campaign ideas and case studies

How to position and sell geofencing marketing to advertisers

Ways to make geofencing marketing highly effective for your accounts
Randy Kilgore - With over 25 years experience in the media industry, Randy has expertise in building foundational revenue strategies, product development, and general management. He has lead national sales teams at Dow Jones, The Wall Street Journal and Gannett. He has also helped digitally focused companies grow fast in his roles at (Tremor Video, now TremorVideo DSP and Magnite) which IPO's in 2013. Randy now leads the Reveal Mobile sales team as CRO and works closely with agencies, brands and media companies to grow their business.