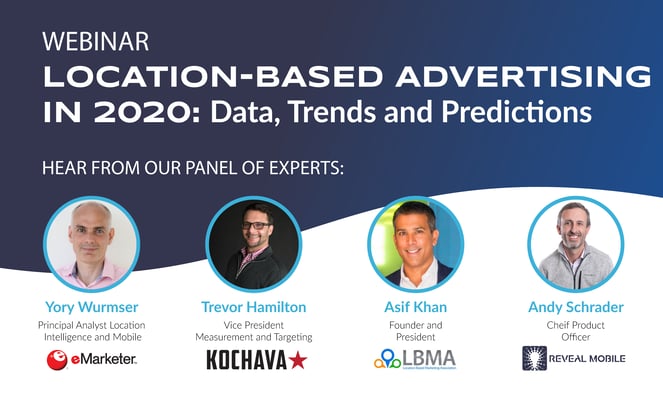 This webinar is in the past.
Who should attend: Digital marketing and advertising leaders at full-service agencies and consumer brands
The past year has been a high water mark for location data. Nearly 90% of marketers use location data in campaigns. More than 60% of marketers use location data to drive personalization. Marketers spent $26.5B on location-based ads, a figure that's expected to grow by more than 40% by 2022. What does all of this mean for the future of location intelligence? And what about the inevitable headwinds?
Join Reveal Mobile to hear from four location data industry experts as we discuss key trends and predictions for the coming year. We'll cover location privacy, location data quality, current and emerging use cases, consumer attitudes toward location data, local search strategies, adtech in-housing and more. The webinar features executive thought leaders from eMarketer, the Location-Based Marketing Association, Kochava and Reveal Mobile.
Attendees will be able to ask the panelists questions during the live webinar.
Panelists:
Yory Wurmser, Principal Analyst for Location Intelligence and Mobile, eMarketer
Trevor Hamilton, Vice President Measurement and Targeting, Kochava
Asif Khan, Founder & President, Location Based Marketing Association
Andy Schrader, Chief Product Officer, Reveal Mobile
*A valid work email is required to register.